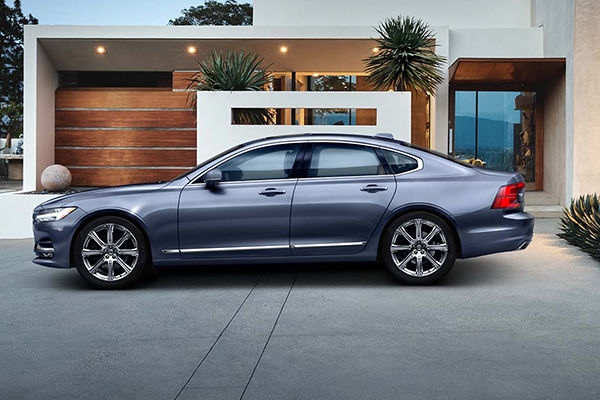 Overview
The S90 redefines what it means to have a luxury vehicle. Enjoy satin sensations throughout the vehicle as you relax on your daily commute. This vehicle is stocked full of the latest tech and Volvo has always been a leader in safety. Come down and get your 2017 Volvo S90 for sale in Denver Colorado and we'll help you select the options you need to get more enjoyment from your vehicle. Your Denver Volvo dealership is ready to serve you so come down and see our Rickenbaugh Volvo S90 specials today.
Interior
Setting the trend in an open and more comfortable interior cabin, the interior of the S90 seems more like a small den than the inside of the vehicle. You'll have plenty of room to move around and enjoy all of the amenities the vehicle has to offer. From Nappa leather to natural wood accents, this vehicle feels like it was hand-made for your comfort and enjoyment. Pure, crystal sound is available from the sound system and you'll be able to control your media and navigation system using voice commands for a more convenient way to interact. When it comes to the interior, the 2017 Volvo S90 for sale in Denver is designed to be one exceptionally great vehicle. This car has all the amenities you could want, and the intuitive design makes the vehicle easier than ever to operate and drive. Come down and see it for yourself when you get a test drive.
Exterior
Powerful, designed and put together are the key elements of this exceptional new vehicle. This vehicle tells the world that you've made it, and you'll feel incredible driving down the road with this exceptionally well-designed vehicle. With light alloy wheels, you'll be able to enjoy a more fluid response and quiet driving experience. The vehicle comes with an exceptional headlight system that seems to curve around corners and looks into the direction of your turn. You'll also enjoy an outstanding level of comfort with the design that is intended to minimize wind noise and resistance. When it comes to the exterior of this vehicle, the 2017 Volvo S90 for sale in Denver is one amazing vehicle. You'll love the design and functionality of this vehicle, and it will help you get more done with additional peace and quiet to boot. Come down and see this vehicle for yourself and you'll be convinced of its vehicular superiority.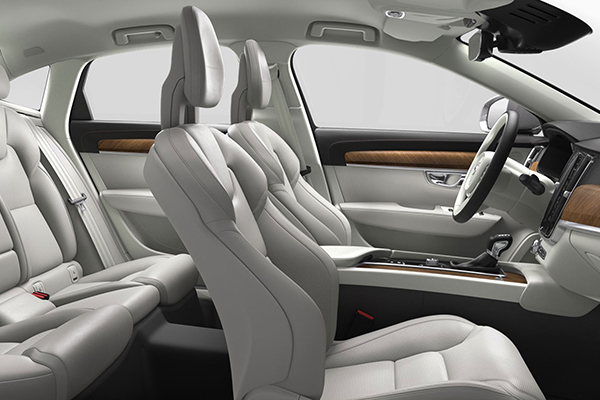 Mechanical
Choose from front-wheel-drive and all-wheel-drive models to make certain you get the best possible driving experience. You'll also enjoy the ability of this vehicle to give you a supercharged experience that goes beyond what you're used to. With many models feature semi-autonomous driving, you'll be able to relax a little more as you sit behind the wheel. Come down and experience this exceptional new vehicle to get the latest design and tech to bolster your life. The 2017 Volvo S90 for sale in Denver Colorado is designed to be one of the best mechanically functioning vehicles on the road. These vehicles are designed to be easy to use with an unmatched suspension system. Using aircraft-grade materials, these Volvos are made to impress. Come check out our Rickenbaugh Volvo S90 specials for the best deals we have on these machines.
Powertrain
A strong engine is what you need to stay safe on the road. With this vehicle, you'll get the perfect combination of power and efficiency to enjoy your driving experience. The vehicle's engine is perfectly matched to the weight and dimensions of the car so that you can get an even distribution of power across all four wheels. The result is a seamless and more fluid driving experience in all types of terrain. For a driving experience that can't be matched, this is your best option to enjoy an incredible new vehicle that simply won't let you down. If you need a powerful vehicle, the 2017 Volvo S90 for sale in Denver might serve your needs. It's strong and built tough with several features that will help you get the most from your driving experience. When it comes to power, you'll be able to feel the thrust and power that this vehicle holds.
Safety
Park Assist is like having your very own professional driver come along to park your vehicle for you. The vehicle uses a 360-degree camera so that you can get a view from above for the easiest and most effective parking experience. You'll be able to get into any spot with less effort thanks to this exceptional feature. You'll also experience a safer design. The vehicle can automatically prepare the brakes and get you ready to stop if necessary when a pedestrian or cyclist comes out of nowhere. Come and see your Denver Volvo dealership to find the latest deals on all of our Volvo cars. We are dedicated to helping you understand any safety features that you're uncertain about. When it comes to staying safe on the road, Volvo is one of the highest-rated cars around.
The 2017 Volvo S90 for sale in Denver Colorado is designed to help you get a better ride. Come down to our Denver Volvo dealership and we will help you get into a new vehicle at the price you want. Our Rickenbaugh Volvo S90 specials go a long way toward making these vehicles highly affordable. Visit us today for the best models and options.