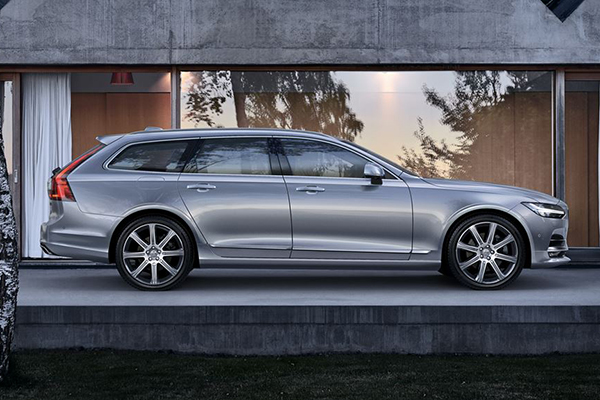 2017 Volvo V90s for Sale near 80113
If you have been searching for a luxurious family vehicle, the all-new V90 may prove to be your perfect match. It is currently one of the newest wagons to hit the market. Volvo engineered the V90 to offer the ideal balance of performance and passenger comfort. On the inside, the new V90 provides an amazing amount of passenger room. An extraordinarily spacious backseat enables your family and friends to truly relax. Diamond-cut leather upholstery makes the entire cabin look especially extravagant. From golf clubs to suitcases, you will be able to pack a variety of different items in the wagon's versatile cargo area. While behind the wheel of the 2017 Volvo V90 for sale 80113, you will grow to love its smooth performance. Drivers can now choose from two dynamic engines. The standard power source is a turbocharged four-cylinder engine, which pumps out a healthy 250 horsepower and 258 pound-feet of torque. An eight-speed automatic transmission aids the wagon's performance and fuel efficiency. Although the V90's official 0-60 time has yet to be revealed, you can expect it to offer effortless acceleration on the road. Volvo also offers a more powerful T6 model. It comes equipped with one of the most advanced four-cylinder engines in the automotive world. By strapping the engine with both a turbocharger and a supercharger, Volvo was able to extract a potent 316 horsepower and 295 pound-feet of torque. Along with the extra power comes a traction-enhancing AWD system. Even when facing snowy road conditions, you will be able to remain mobile. In regards to styling, the new V90 looks incredibly refined from every angle. Striking headlamps and a signature grille enable it to completely stand out from the crowd. A dual-outlet exhaust system gives the wagon an extra degree of sportiness. Featuring a racy set of wheels and a powerful body kit, the R-Design model looks addictive. Several exciting paint colors are available. If you have any questions about the new V90, be sure to contact Rickenbaugh Volvo at your earliest convenience.
80113 Area 2017 Volvo V90 Specials
If you are like most car shoppers in the area, you understand the importance of saving money. Luckily, your local Volvo dealer serving 80113 zip code provides huge savings. With the year officially coming to an end, you can look forward to getting an amazing deal. The dealership will be offering cost-cutting specials. To check out the current specials, be sure to check out the dealership's website. Aside from the special deals, Volvo also offers exclusive manufacturer rebates and incentives. You could be driving home with a steal! All new V90 models come with a lengthy powertrain warranty, which enables you to travel with confidence. Don't forget about the available leasing deals. After driving your V90 for a couple of years, you will be able to upgrade to an all-new mode. If you need more information about the available incentives, don't hesitate to contact Rickenbaugh Volvo today!
Why 80113 Drivers Buy the 2017 Volvo V90
The new 2017 Volvo V90 for sale 80113 is destined to be a hot commodity. It is the ideal option for the drivers who need a versatile luxury car. Everyone has praised the new V90 for its upscale cabin. While the wagon's strong fuel economy makes it an economical daily-driver, its punchy performance promises to keep drivers entertained. Both of the available four-cylinder engines pack a solid punch. Meanwhile, an advanced AWD system gives you the optimum grip in bad weather. Everyone in your family will appreciate the wagon's superb ride quality. Furthermore, a number of premium features are available on the V90 for sale to 80113. Featuring a tablet-style screen, the Sensus infotainment system is destined to excite technology lovers. Not only is the Sensus system extremely easy to use, but it also provides smartphone integration. Apple CarPlay and Android Auto make it easy for drivers to access their favorite apps. Steering-wheel-mounted controls help you to remain focused on the road. Music fans will surely like the thunderous Bowers & Wilkins sound system. It comes equipped with a powerful subwoofer and an array of premium speakers. Heated and ventilated seats take the V90's comfort to the next level. As you may already know, Volvo has a proven history of developing exceptionally safe vehicles. While riding in the 2017 Volvo V90 for sale 80113, your family will enjoy an extra degree of protection. Several cutting-edge safety innovations are available. Automatic braking technology constantly scans the road for danger. For more information on the all-new V90, don't hesitate to contact Rickenbaugh Volvo.
Volvo Finance Loans for 80113 Drivers
Your local Volvo dealer serving 80113 zip code encourages you to apply for financing. You can get approved for an auto loan without even leaving the comfort of your home. Available on the dealership's website, the secure finance application is quick and easy to complete. You will be able to save a lot of extra cash. Don't miss out on your opportunity to drive home a new Volvo V90 for sale to 80113!
80113 shoppers, please call or request current Volvo V90 80113 specials on this website.
*Informational content and opinion only. Please contact dealer for complete vehicle details and current pricing.