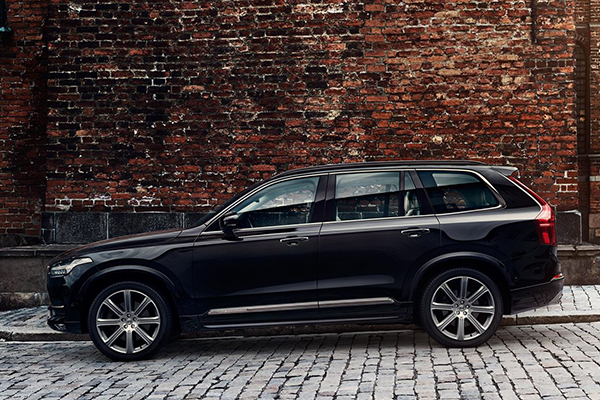 Overview
Having a lineup of seven gas-powered models and three hybrid trims, the 2017 Volvo XC90 offers plenty of options under the hood. This luxurious crossover SUV boasts the Sensus Connect infotainment system that includes navigation, Wi-Fi and other applications. A 19-speaker sound system by Bowers & Wilkins is another high-end amenity inside the XC90. This Volvo also offers industry-leading safety technology, including the City Safety and Run-Off Road Mitigation.
Interior
The 2017 Volvo XC90 for Sale in Denver Colorado includes the Sensus Connect multimedia system that features a 9-inch touch screen. GPS navigation software with real-time traffic updates is included in this signature infotainment hub. Wireless Bluetooth and Apple CarPlay are fully supported by the Sensus platform. With the Volvo On Call technology, it's possible to create a Wi-Fi network inside this luxurious vehicle. Additionally, the Volvo On Call application can be downloaded on a compatible smartphone, and used to remotely manage the vehicle. A Denver Volvo dealership will show clients the XC90's Bowers & Wilkins sound system that has 19 speakers. This advanced audio system includes a 12-channel amplifier that blasts up to 1,400 watts of acoustic power. Durable Kevlar cones are also integrated into all of the speakers. An air-ventilated subwoofer delivers crisp sound quality on hot days.
Exterior
More than 10 exterior paint options are available for the 2017 Volvo XC90 for Sale in Denver Colorado. Passion Red, Magic Blue and Luminous Sand are some of the standard color choices. For an extra fee, a dealer may customize this crossover SUV with Electric Silver, Crystal White or Onyx Black. The XC90 for sale in Denver may be fitted with wheels that have five, eight or 10 spokes. Matte black, silver diamond and polished alloy are some of the wheel finishes. Roof rails and a roof spoiler are some other premium features that are installed on this Volvo crossover SUV.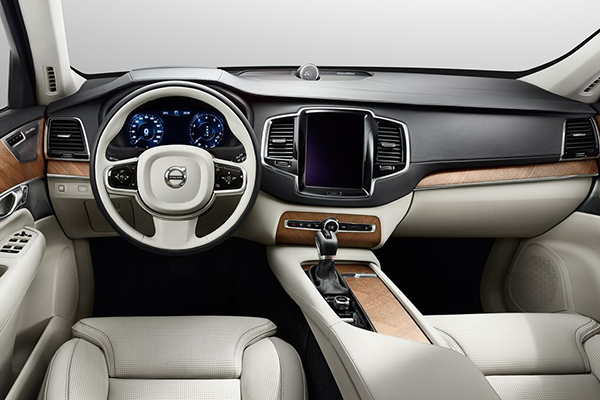 Mechanical
The Volvo XC90 can be equipped with an air suspension system that includes the FOUR-C Active Chassis. By automatically adjusting the vehicle's ground clearance, this suspension system ensures optimum performance according to real-time conditions. Multiple sensors monitor the road up to 500 times per second to make the appropriate calibrations to the suspension system. A Denver Volvo dealership advertises the XC90's ability to tow a trailer that weights up to 5,000 pounds. Rickenbaugh Volvo XC90 specials may be available on towing equipment, such as hitches, harnesses with pin connectors and other hardware. The XC90 for sale in Denver is available with a curb weight as low as approximately 4,300 pounds.
Powertrain
When equipped with a turbocharged I-4 engine, the 2017 Volvo XC90 gets up to 250 horsepower at 5,500 RPM and 258 pound-feet of torque at only 1,500 RPM. The supercharged I-4 engine whips out 316 hp at 5,700 RPM and 295 lb-ft of torque when the tachometer reaches 2,200 RPM. In the plug-in hybrid models and the Excellence edition, the supercharged engine has a peak output of 400 hp at 6,000 RPM and 472 lb-ft of torque at 2,200 RPM. All of the engines come with the ECO+ Functionality that improves efficiency in urban and suburban settings. This technology automatically shuts off and restarts the powertrain depending on traffic flow. A Denver Volvo dealership will explain the benefits of the XC90's standard Geartronic automatic transmission system that has eight speeds. This patented transmission even has a manual setting that lets the driver pick the gear ratios. Catering to customers in Denver, Rickenbaugh Volvo XC90 specials are available on an all-wheel drive system that comes with the Instant Traction technology. Under certain conditions, this feature can transmit half of the engine's output to the rear axle. Featuring three settings, the power steering system makes it easy to handle this versatile Volvo crossover SUV. Additionally, it's possible to customize the powertrain by choosing from the Drive Mode system. For example, the Dynamic Mode should be selected for a sporty drive on the highway. With a push of a button, the driver may activate the Hill Descent Control that maintains a steady speed on downward slopes.
Safety
The 2017 Volvo XC90 has the City Safety technology that decreases the risk of accidents in urban settings. This feature can automatically apply the brakes to prevent a front crash. When cruising on rural or suburban roads, the driver will appreciate the Large Animal Detection function that issues prompt warnings and engages the brakes. High-speed crashes are unlikely to occur when the person behind the steering wheel reacts to the Driver Alert Control. The 2017 Volvo XC90 for Sale in Denver Colorado may be equipped with the Lane Departure Warning and Lane Keeping Aid, which monitor road markings. Additionally, the Blind Spot Information System detects motorcycles or vehicles that move into the driver's blind zone. When shopping for the XC90 for sale in Denver, customers should ask about the Road Sign Information and Run-Off Road Mitigation. This premium Volvo crossover SUV offers a safe drive at night thanks to the Active High Beam and Active Bending Lights. A notable security feature in this model includes the central locking system that locks or unlocks all of the doors at the same time.
Serving clients in Denver, Rickenbaugh Volvo has a large selection of Volvo XC90 models. Customers are invited to test drive the T5 and T6 editions of this lavish Volvo crossover SUV. Rickenbaugh Volvo XC90 specials are also available on the T8 and Excellence trims.