Aspen area Volvo Dealership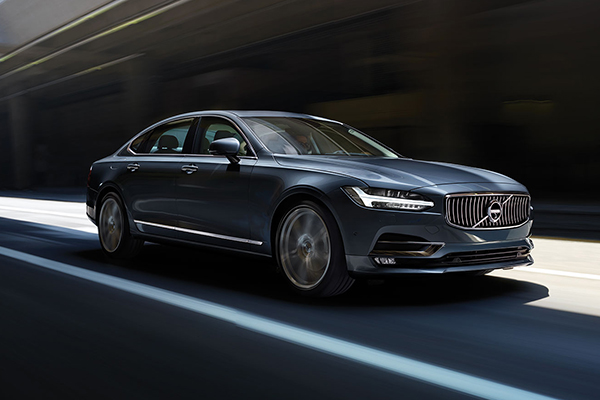 Rickenbaugh Volvo serving Aspen luxury drives and shoppers
There is a myriad of reasons why we are the go-to dealer for the Mile High City. We are conveniently located near Aspen and are easy to access from anywhere in the metro area. There is a great selection of exciting new vehicles, from the luxurious S90 to the spacious V90 and the sporty XC60, as well as the S60, XC40, V60 and XC90. Our great variety of colors, packages and options makes it easy to find the perfect car for you and fall in love with it right in the parking lot. Also at your disposal is our team of experienced lease and finance agents eager to find you that perfect financing deal. Nor do we forget you after you have purchased your vehicle. We have an extensive service and parts department to provide you all of the Volvo auto repair services you may need. So call or use the internet to contact Rickenbaugh Volvo - the Aspen area Volvo Dealership that has been serving Aspen Volvo shoppers and leaving them extremely satisfied since its very first day - for information on these and many more auto services that we offer.
New Volvo Vehicle Sales
There are many things that set our Aspen area Volvo Dealership apart from others and one of them is our impressive selection of new cars for you to choose from. If you are interested in sedans, we have the nimble S60 in both the normal and lifted Cross Country variations. Fans of larger vehicles will love the all-new flagship S90 sedan, it is sure to impress anyone in the market for a large, luxurious and well-equipped sedan. If you prefer wagons or crossovers, we have those also, including the versatile V60 and the cavernous V90, which both come in regular and Cross Country models. Rounding out the wagon selection is the robust SUV- the XC40. And if full-on SUVs are more your flavor, both the XC60 and the XC90 offer all-terrain ability, spacious and comfortable interiors and all of the latest technology for your enjoyment. If you want to learn more about the great selection we have serving Aspen Volvo shoppers, contact Rickenbaugh Volvo and learn more about the many great cars we have in stock.
Volvo Auto Finance
The financial office of our Aspen area Volvo Dealership has all the options that you need to find the right finance or lease offer for your new or pre-owned vehicle purchase. Whether you choose to finance or lease your new car, you can be overwhelmed with options. Sometimes, it takes a lot of effort even to find out what options you may qualify for. We make it really easy through our online application process. Just enter some general information about yourself and the vehicle you are interested in financing, and one of our finance experts will be in touch with you shortly to introduce you to some of our great finance and leasing deals that you may be interested in. The experience of our finance specialists gives them the knowledge to present all of these options in an easy-to-understand manner that gives you clear choices, making it very simple to choose the right one for you. And the choices we are serving Aspen Volvo shoppers are definitely something to write home about. So contact Rickenbaugh Volvo today to find out just what great deals are in stock for you when you finance or lease your next vehicle through us.
Volvo Auto Repair & Service
If your car needs service near Aspen, then you are in luck. Our service center is fully-equipped with the latest in technical equipment and staffed with knowledgeable and experienced mechanics. Whatever the size or complexity of the service that your car requires, we are more than welcome to help you out with it. Simple services like oil changes or tire rotations get just the same care and attention as transmission services, brake services or engine tuneups. All makes and models can be serviced here. Our technical staff is experienced in performing both repairs and scheduled maintenance, so all of your needs can be fulfilled here. So if your vehicle is coming up on some necessary maintenance, experiencing problems or just needs a few parts replaced, we are your go-to service shop near Aspen. So call us today and schedule your next appointment! Once you've experienced the quality of our service, you will be very excited to come back time and time again.
Volvo Parts
Finding the exact components that your car needs can be difficult, as can telling the good ones from the bad ones. Our parts team is here to help you out with just that problem. They can do the hard work of finding the part that fits your car's make, model and options array with no trouble at all. Whatever the project you are working on, they can point you in the right direction and get you everything that you need for its success. With our large selection of Original Equipment Manufacturer parts, manufactured according to the same high standards as the original parts on your vehicle, we are certain to have the perfect part for the job available. So if you need a part for your next Volvo auto repair, accessory or just regular maintenance service, our dealership is the place to go. So contact us today and have all of your parts needs taken care of swiftly and with great care!