Castle Pines area Volvo Dealership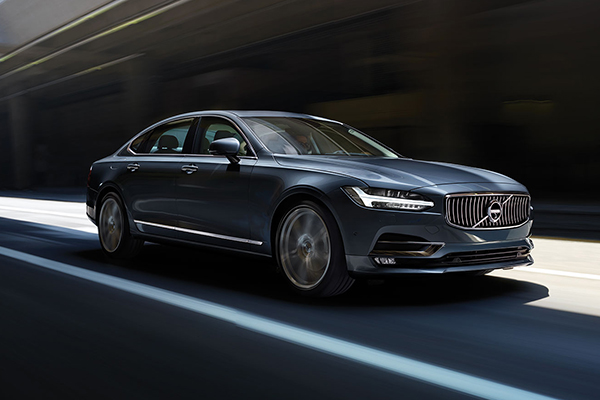 Why Rickenbaugh Volvo serving Castle Pines
Are you looking for a car dealership that raises the bar when it comes to customer care and client satisfaction, as well as choice and value? Then contact Rickenbaugh Volvo - our Castle Pines area Volvo Dealership known for its commitment to making all of its clients feel comfortably at home during every interaction, from vehicle demonstrations and test drives to service and parts visits. So if you are looking for a high-quality and well-respected Castle Pines luxury sales dealer, you've found one. We've been serving Castle Pines area and its select clientele for some time, earning our reputation for utmost regard for our clients and the ability to fully deliver on all of their needs. We have a varied selection of high-quality new and pre-owned vehicles outfitted with the latest in comfort and technology features, as well as a state-of-the-art service and repair facility to cater to all of your vehicle maintenance requirements as well. So if you are looking for a Castle Pines luxury sales dealer that goes above and beyond for its valued clients, then contact Rickenbaugh Volvo and let us know just what we can do for you.
New Volvo Vehicle Sales
The modern automobile is evolving quickly, bringing new luxury, safety and performance technologies to market every year. Our Castle Pines area Volvo Dealership prides itself on the varied and deep selection of vehicles just so equipped for our clientele to select from. With an inventory that covers a full range of vehicles, including the sleek and tastefully-fitted new S90 sedan, the conservative yet versatile V90 or even the downright palatial XC90 Excellence, billed as the pinnacle of Scandinavian luxury by the manufacturer. With a selection like this, finding a car to fit your exacting tastes and requirements won't be hard, especially with the assistance of our diligent and knowledgeable client care agents. And if the exact color and configuration that you like is for some reason not immediately available, it will be quickly located and delivered without delay. Our Castle Pines luxury sales has the conscientiousness and the perspicacity needed for serving Castle Pines shoppers and you are the beneficiary of this whenever you visit our convenient location. So get in touch with us today and let us know how we can fulfil your new luxury car needs.
Volvo Auto Finance
Our Castle Pines area Volvo Dealership does not just help you purchase that perfect luxury car, but help you obtain the right financing and insurance for it as well. The team of experienced finance agents running this department have all the prerequisites for serving Castle Pines: industry experience, a diverse set of financial contacts and a thorough knowledge of the most current financial options available. If you enjoy driving a new car every several years, they will find you the right leasing deal that fits your personal desires and driving style perfectly. If you instead prefer to invest in your vehicle, we have a variety of finance terms, rates and options to choose from that allow us to tailor the financing specifically to your financial goals. Even if you are looking to simply purchase your vehicle outright, our finance experts have a series of insurance and protection options to give you peace of mind and simplify the process of keeping your car well-maintained and running in peak condition. If you have any questions about the finance and insurance options available to you at our dealership, simply contact Rickenbaugh Volvo finance and let our experienced professionals solve all of your problems.
Volvo Auto Repair & Service
The vehicles sold at our dealerships are the peak of modern quality and reliability, but even they need regular maintenance and an occasional tune-up. When they do, our courteous service staff will take care of it for you. For smaller services, just give them your keys and rest in our comfortable and well-appointed waiting room and you will receive your car shortly in better condition than it arrived in. For longer services, we offer you shuttle service, a loaner vehicle or even a rental car depending on your needs so that you are free to use your valuable time as you see fit. And while you are away, your car is handled by an excellent team of mechanics that have the experience and the skill to perform practically any kind of service on all makes and models of vehicles. So regardless of what kind of service your vehicle needs, here you will find the careful quality care your car deserves and the friendly and courteous treatment that you've come to expect. Call us today to schedule your next appointment and feel for yourself how easy it is to do your Volvo auto repair with us.
Volvo Parts
High-quality parts are what makes your luxury vehicle into the comfortable and high-performing machine that it is, which is why we make it easy for you to get equally well-performing replacement components at our Volvo auto repair and parts facility. Either stop by in person or fill out our brief and intuitive order form online and let us handle the rest. By cross-referencing your car's year, make, model and VIN, we can find the right manufacturer-recommended replacement part that fits your vehicle perfectly, taking out the guesswork from the process. Then, we just contact you via the method of your choice and you can just come and pick up your parts at your convenience. Our easy process makes getting the right parts a breeze, so if you have the need for parts or accessories, just contact us and let us do all the work for you.