Model Strengths
The 2017 Volvo S60 Polestar runs on a 3.0 L turbocharged I-6 engine that produces a maximum of 345 horsepower and 369 pound-feet of torque. This powerful engine has a twin-scroll design that optimizes the output during every full combustion cycle. The S60 Polestar comes standard with the six-speed Geartronic automatic transmission system that is designed for responsive handling. This trademark transmission smoothly transfers torque to the front and rear axles that are linked to the All-Wheel Drive (AWD) configuration. A Volvo S60 Polestar review also includes data on the car's other high-performance features such as the Brembo brakes that deliver excellent stopping power even in tough conditions. 2017 information on the S60 Polestar covers the vehicle's full-flow exhaust system that is made of stainless steel for the ultimate durability. Such a component actually improves performance by eliminating the exhaust gases on every power stroke. Customers who do research on this Volvo sedan will also realize that it has a Sport Mode, which is ideal for driving on the highway at fast speeds. The S60 Polestar is also equipped with the Polestar/Ohlins shock absorbers that are integrated into the suspension system. With an alternator that is rated at 180 peak amps, this Volvo sedan has a durable electrical system that won't get depleted even in demanding conditions.
Model Changes
2017 information on the S60 Polestar includes an overview on minor and major changes to the exterior and interior. Customers who do research on this Volvo sedan will realize that it has a sculpted profile that's optimized to reduce drag. The rear spoiler and rear diffuser also contribute to a great aerodynamic design that's typical of sports cars. The S60 Polestar also comes with Clean Zone software that precisely manages the climate control system.
Model Value
Rickenbaugh Volvo will mention that the S60 Polestar comes with a starting price of $60,000. This Volvo Denver dealership can help customers apply for financing in order to lease or buy such an advanced sedan. The S60 Polestar can also be enhanced with the installation of various accessories and packages that are offered at the dealership. For example, this Volvo sedan can be covered in attractive paint finishes such as Ice White, Rebel Blue or Onyx Black. Heating for all of the vehicle's five seats can also be installed for an extra fee.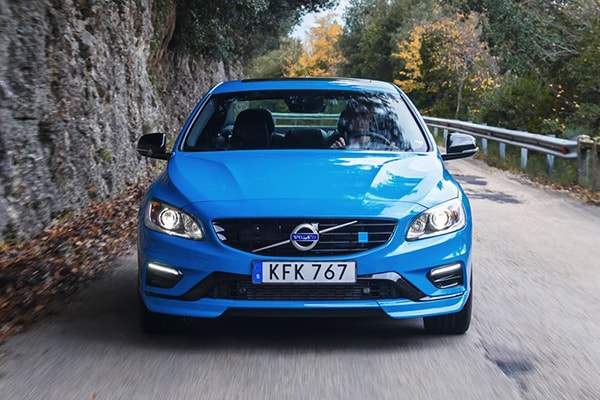 Model Overview
The 2017 Volvo S60 Polestar is a sporty sedan that delivers superb performance. A turbocharged engine works in sync with the All-Wheel Drive and Geartronic transmission system to deliver impressive capabilities. The Volvo S60 Polestar also comes with signature technology that is powered by the Sensus Connect suite. When it comes to active safety, the Volvo S60 Polestar is a class leader. This sedan comes with the Collision Warning system that is supposed to reduce the likelihood of front crashes. The Pedestrian and Cyclist Detection is integrated into the Collision Warning System. If the driver does not take enough action after the warnings, then the Full Auto Brake function will slow down and stop the vehicle promptly. A Volvo S60 Polestar review also focuses on the sedan's many other impressive active safety features such as the City Safety system, which is designed to prevent accidents at speeds below 30 MPH. As the name implies, this technology is ideally suitable for safe driving in urban settings. Thanks to the Lane Keeping Aid and Blind Spot Information System, the driver should have an easy time merging into an adjacent lane on the highway without causing any trouble. Another advanced active safety amenity in the S60 Polestar is the Road Sign Information (RSI) function, which automatically detects traffic signs and signals along the way. The RSI technology will alert the driver if he or she violates the traffic rules that are posted on the signs.
Model Key Trim Features
The Volvo S60 Polestar has a racing-inspired cockpit that is loaded with innovative digital technology. The driver has convenient access to the Sensus Connect infotainment system that delivers GPS navigation and much more. The Sensus Connect platform also works very well with most smartphones including Android devices and iPhones. With Volvo On Call, it's possible to set up a Wi-Fi hot spot through the car's external antenna. Additionally, the Volvo On Call application can be utilized to remotely manage the vehicle's powertrain, doors, windows and other components. Rickenbaugh Volvo is a Denver dealership that will show clients plenty of other impressive features in the S60 Polestar model. This sporty sedan can be equipped with the Harman Kardon sound system that includes a dozen speakers. This premium audio system comes with the Dirac Live technology, which significantly boosts the acoustics of various music sources such as SiriusXM Satellite Radio. For extra entertainment, the S60 Polestar sedan offers two 8-inch LCD monitors that can play Blu-ray discs and DVDs. This rear entertainment system is compatible with wireless headphones, USB flash drives and SD cards. It should also be quite easy to sync Apple devices with this multimedia entertainment center.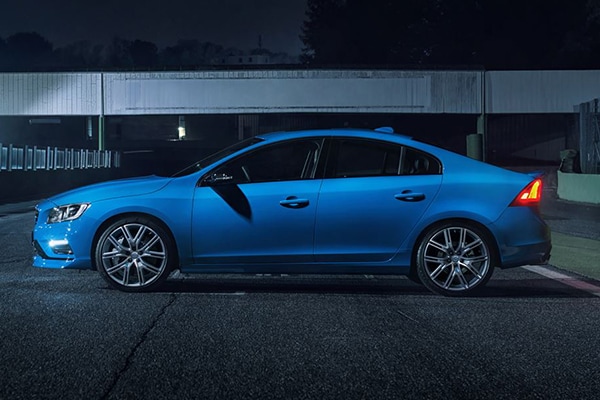 Model Positive Review
The 2017 Volvo S60 Polestar has one of the most powerful engines in its vehicle class. Volvo is truly proud to equip this four-door sedan with a turbocharged engine that is typically found in sports cars. The Geartronic transmission system is another high-performance component that gives consumers plenty of reasons to choose the S60 Polestar for thrilling adventures on the road.
Need more model information? Contact Dealer