Have you conducted research into Volvo's elegant V90 station wagon? Long associated with the development of very safe, ultra-reliable cars, the acclaimed Swedish automaker has recently revealed some information about this exceptional motor vehicle. Just imagine yourself visiting our dealership to explore the details of the classic V90 design. A team of skilled engineers worked hard to present an updated version of a classic station wagon model. The design incorporates room for both passengers and ample cargo. Long and sleek, and now available with a stunning panoramic roof, the V90's smooth contours defy easy encapsulation. You'll want to visit our showroom in Denver in person to discover why so many people praise Volvo's automotive expertise. Volvo has always taken great pride in building safe, reliable vehicles in a very functional, attractive form. Our dealership in the Denver area appreciates the great utility of Volvo's line for Coloradoans. This state sometimes offers challenging driving conditions, especially during colder months of the year. Scandinavian-designed winter hardy automobiles mesh so well with an active Front Range lifestyle!
Recent Changes
The V90 represents a new iteration of a longstanding series of Volvo classics. The Swedish automaker previously released the 2016 XC90 Crossover, followed by the S90, a sedan. Now the V90 promises to continue this graduated revival of some elegant, timeless automotive designs updated with a few interesting new features. Customer curiosity about the V90 has reached a sizzling level. People naturally want to learn more about a beloved station wagon reincarnated into a current, very trendy model. Rely on our dealership as you conduct research to determine the best model of Volvo for your household's needs.
Classic Value
When you visit Rickenbaugh Volvo soon to learn more about the V90, spend a little time obtaining valuable background information about the Volvo brand and popular models of Volvo vehicles. You'll gain a fuller appreciation of the capabilities of these fine products. Volvo today still enjoys a prestigious place among international automakers!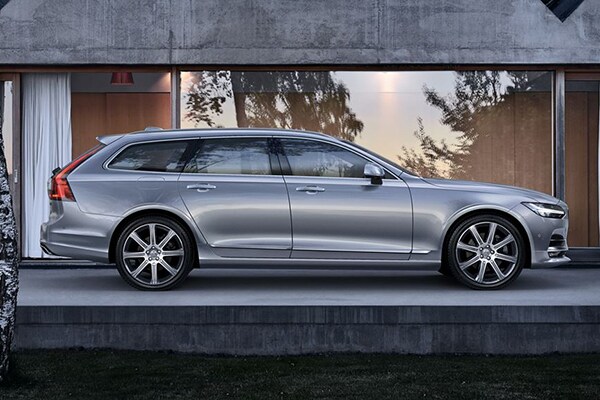 An Overview of the 2017 Volvo V90
Unlike the station wagons of yesteryear, the new V90 from Volvo offers some modern convenience which contribute even more to this model's classic elegance. For instance, the renowned Swedish auto manufacturer now offers customers the option of selecting an available "panoramic" roof to brighten the interior of the wagon. Offering a great view of the surrounding countryside, this available feature lends the new 2017 Volvo V90 some qualities of a convertible. It adds a sense of spaciousness to an already popular automotive design. Travel with the roof closed, or open it to feel the breeze rustle through your hair along the open road! The romance and adventure of the station wagon model finds a wonderful expression in the trendy Volvo V90! Additionally, the new models of this station wagon provide current infotainment features unavailable to people during the heyday of the company's earlier station wagons. With excellent radio, and carefully engineered climate controls to help maintain a comfortable cabin, you'll recognize the V90's luxurious style today. By keeping in touch with us through email alerts, you'll assure yourself of hearing about the development of great Volvo products as they occur. Sign up for inclusion on our email list now in order to stay informed about 2017 information. We'll keep in touch with you about our inventory and new upcoming releases from Volvo. You'll congratulate yourself for taking this smart move as more information emerges about the station wagon considered the "most elegant" in the world by many car designers! Give yourself the treat of discovering exciting news about the V90 and other pending releases before most people!
Key Trim Features
When you conduct a personal Volvo V90 review, you'll quickly realize this lovely vehicle offers both a spacious conformation and a very appealing exterior. Scandinavia helped give birth to the popular Minimalist design movement. Some aspects of the timeless Volvo V90's paint and trim style pay homage to the skill of Volvo's world class design team. Combining both elegant form and precision engineering in one highly desirable wagon, the new V90 seems poised to set the automotive industry's interest at peak levels! Sign up now to receive ongoing emails from us about this exciting vehicle!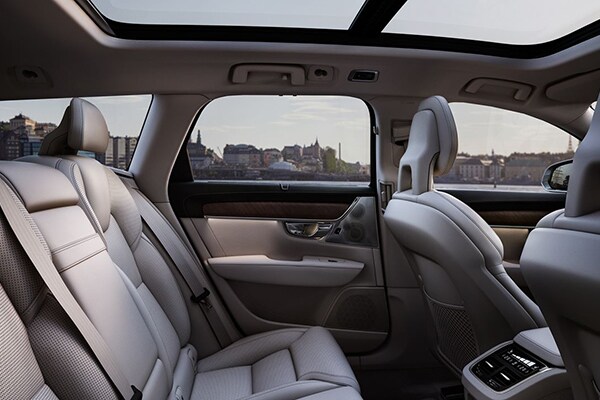 A True Accolade
On its website, Volvo employed this accolade to provide a Volvo V90 review "more beautiful than ever". The car maker enjoys international acclaim for its safe, dependable line of automobiles. Research the Volvo brand in person at Rickenbaugh Volvo to fully appreciate the remarkable value offered by the well-designed V90! As more buzz circulates about 2017 information on this exceptional vehicle, you'll want to explore Volvo's craftsmanship and precision engineering in greater depth. Visit us to obtain detailed data about this magnificent station wagon! We'll gladly conduct legwork for you from our Denver dealership to ensure you locate the highest quality of Volvo products. Our commitment to providing excellent customer service has earned our Denver dealership a great reputation as the place to go to learn more about Volvo's exceptional lines of vehicles. Whether you want to drive a contemporary V90, or another one of the Swedish automaker's outstanding designs, you'll obtain great service at Rickenbaugh Volvo!
Need more model information? Contact Dealer