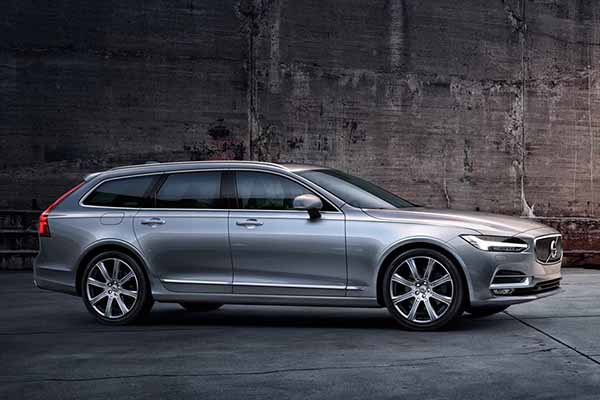 Vehicle Overview
Volvo has long been synonymous with quality, craftsmanship and safety. The V90 is no exception. You'll find that this vehicle is an exceptionally well-made vehicle that offers a wide array of amenities and optional features to enhance the vehicle. Whether you want a completely decked out version of the vehicle or you prefer simple simplicity, we have a model that will fit your needs. Make sure you act quickly, though since our best models tend to fly off the lot. The V90 offers a powerful engine, a magnificent powertrain and a cabin that is well-appointed. You'll also get a vehicle that is highly capable and able to drive in a semi-autonomous state. Of course, the best safety feature will always be your capable driving skills, but the enhancements to this vehicle can make things just a little safer on the road for you and your passengers. You'll be able to fit five passengers and enjoy an exciting drive with your favorite people.
Interior - Schedule Your 2017 Volvo V90 Test Drive
The interior of this vehicle is luxury defined. You'll love the available cargo space and you can enjoy a host of amenities that make this vehicle more enjoyable. The vehicle makes it easy to connect all of your apps, and you can enjoy an interactive and intuitive dashboard that brings all of your most important features to the fore. This vehicle is designed to impress, and you'll love how this vehicle seems to be designed to fit your personality. It's a well-actualized vehicle that makes you feel in control of your destiny. You'll love how amazing you'll feel behind the wheel. Come in and check out this vehicle for yourself so you can discover the essential features that you may need to get the most out of your drive. You'll enjoy heated seats, a four-way lumbar support, eight-way power driver seat and passenger seat as well. The vehicle also adjusts to you with a manual tilt and telescoping steering column that is sure to come right up to your level. Enjoy a heated leather steering wheel and a front and rear cupholder. The vehicle also offers a proximity key for the doors and a push button start button so you can get rolling right away. Enjoy the cruise control option that's mounted into the steering wheel and the option to pace the car in front of you with the ability to respond to stop and go traffic. Voice activated air conditioning, media and other functions will make it easier and safer for you to drive. Test drive 2017 Volvo V90 in Denver Colorado to find out how well this vehicle feels with you behind the wheel.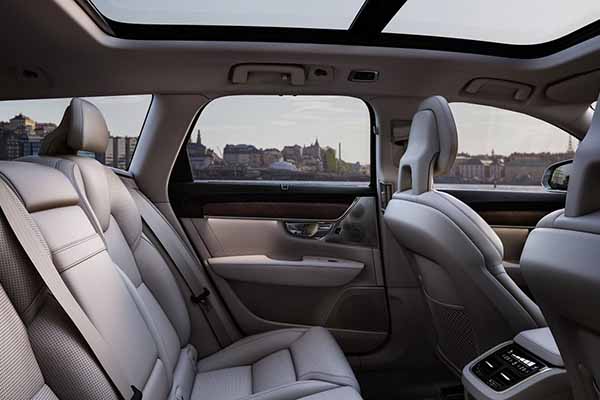 Exterior - Volvo V90 Dealership Test Drives
The vehicle comes with several exterior features to help you enjoy your life. The steel spare wheel is useful if you ever have a flat tire. You'll also enjoy the clearcoat paint that gives the vehicle a lustrous shine. The vehicle uses black side window trim and body-colored door handles for a sleek and sophisticated look. When it comes to the outside mirrors, you'll be able to take advantage of the heating option to make sure cold weather doesn't get in the way of your view. Contact Rickenbaugh Volvo serving Denver Littleton Broomfield Colorado for a quote and to get in this vehicle today.
Mechanical / Powertrain - V90 Information
When it comes to mechanical features, this vehicle really breaks the mold. You'll enjoy a turbocharged engine and a direct injection fuel delivery method. The base engine offers 316 horsepower at 5700 RPMs and you'll get 295 lb-ft of torque at 2200 RMPs. The transmission uses an all-wheel-drive drivetrain for increased stability and performance. You'll also enjoy an 8-speed automatic transmission that's designed to help you get where you're going efficiently. The steering column is able to steer curb to curb, and you'll find this vehicle is highly maneuverable. Overall, this vehicle is a true joy to drive, and we want to help you take one home today.
Safety - Request a Personalized Volvo Test Drive
When it comes to safety, there is plenty to be happy about. You'll enjoy ABS and driveline traction control for good stopping power and stability. The vehicle also includes side impact beams to protect you from a side collision. The dual stage airbags deploy intelligently to help you get the best protection possible. You'll also enjoy the rear parking sensors, the BLIS blind spot sensor and a city safety forward collision with cross traffic alert system to act as a second set of eyes on the road. Lane keeping is also available to help you stay in your lane. If your tires begin to run low on air, the low tire pressure warning system will activate to ensure you know it's time to get service. Overall, this vehicle has plenty of active and passive systems that are designed to keep you safe out on the road.
Test drive 2017 Volvo V90 in Denver Colorado to find out if this vehicle is a good fit for your needs and lifestyle. When you come in for a test drive, you can take the 2017 Volvo V90 out for a spin to see all of the great features in person. Contact Rickenbaugh Volvo serving Denver Littleton Broomfield Colorado and see why our customers rave about the Volvo V90.
*This article is for informational purposes only. Please contact our dealership to get the latest information available on this vehicle.