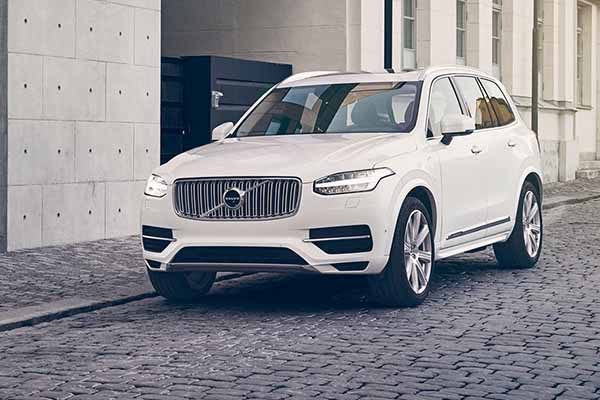 Vehicle Overview
The 2017 Volvo XC90 is a luxurious crossover SUV that makes a great family vehicle. Available with two compact turbocharged engines and the Geartronic automatic transmission system, the XC90 offers solid performance. This premium Volvo has plenty of connectivity options via the Sensus Connect infotainment system. In the active safety category, the XC90 leads its class with dynamic technology such as the City Safety and Lane Departure Warning.
Interior - Schedule Your 2017 Volvo XC90 Test Drive
You can contact Rickenbaugh Volvo to set up a test drive 2017 Volvo XC90 in Denver Colorado. This dealer lets you explore the vehicle's Sensus Connect infotainment system, which includes GPS navigation software and other digital utilities. Apple CarPlay allows you to import iPhone applications into this signature multimedia console that has an 8-inch monitor. A Volvo dealer serving Denver Littleton Broomfield Colorado will also show you the vehicle's Driver Display that's available in an 8-inch or 12-inch digital screen in the instrument cluster. With Volvo On Call, you could even connect to the web on the road. This technology uses the vehicle's powerful antenna to emit a reliable Wi-Fi signal throughout the entire cabin. In the entertainment category, the XC90 offers some premium options like the Bowers & Wilkins sound system that includes 20 speakers. Durable Kevlar material is integrated into each speaker cone in order to enhance acoustics. A standard six-month subscription to SiriusXM Satellite Radio will let you fully test the impressive capabilities of this signature audio system.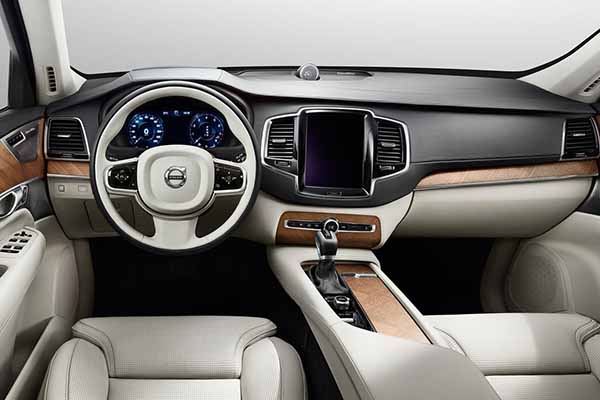 Exterior - Volvo XC90 Dealership Test Drives
When you visit a Volvo dealer serving Denver Littleton Broomfield Colorado, you may ask about the exterior styling options for the XC90. This lavish crossover SUV is available in more than 10 colors including Magic Blue, Electric Silver, Crystal White and Onyx Black. Available with five, eight or 10 spokes, the wheels come in 18 to 22 inches in diameter. Matte black, polished alloy and sparkling silver are some of the decorative options for the wheels. To further customize the XC90, you may add various R-Design packages. A roof spoiler can also be installed on top of this premium Volvo model.
Mechanical / Powertrain - XC90 Information
The 2017 Volvo XC90 runs on a turbocharged engine that kicks out 250 horsepower at 5,550 RPM and 258 pound-feet of peak torque at over 1,500 RPM. You can also select a supercharged engine that increases the net output to 316 hp at 5,700 RPM and 295 lb-ft of torque at above 2,200 RPM. Direct Injection delivers gasoline into these compact yet powerful engine blocks. The Volvo XC90 gets excellent traction on any surface thanks to the All-Wheel Drive with Instant Traction. If necessary, this AWD system can distribute up to 50% of torque to the rear axles in order to maximize handling on low-friction roads. Featuring a gear box with eight speeds, the Geartronic automatic transmission system is standard in this luxurious Volvo crossover SUV. You can select the Manual Shift Mode to enjoy a dynamic drive with variable gear ratios. Mounted on the steering wheel, paddle shifters let you easily switch gears without touching the shifting handle. Additionally, you may choose from four settings that are integrated into the Drive Mode Select. The Dynamic Mode lets you push the engine to the limit for high-speed cruising. The off-Road Mode should be turned on if you're navigating rugged landscapes or slippery roads. Thanks to the ECO+ Functionality, the powertrain will conserve fuel in heavy traffic and other conditions that require you to slow down frequently. This system is paired with the Auto Start/Stop technology that deactivates some of the cylinders. With the press of a button, you could turn on the Hill Descent Control to avoid unintentional acceleration on an inclined road. Powered by the Four-C technology, the XC90's air suspension system is virtually unrivaled by any suspension systems on the auto marketplace. This cutting-edge installation scans the road up to 500 per times second and makes minor adjustments to the powertrain. At fast speeds, the air suspension automatically lowers to reduce drag and increase stability.
Safety - Request a Personalized Volvo Test Drive
The City Safety technology keeps the Volvo XC90 rolling safely in urban areas. This system can automatically apply the brakes if it detects other cars, bicyclists or pedestrians in the way. The Driver Alert Control can detect your erratic driving habits and issue prompt warnings. Changing lanes in this luxurious Volvo is facilitated by the Lane Departure Warning and Lane Keeping Aid. It's also advisable to follow the cues from the Blind Spot Information System and Rear Cross Traffic in order to lessen the risk of side collisions. When it detects a fast-moving vehicle behind you, the Rear Collision Warning will issue immediate alerts. The Road Sign Information and Run-Off Road Mitigation also heighten your awareness of your surroundings. When driving in dark conditions, you'll appreciate the Active High Beam technology that adjusts the low and high beams accordingly. Additionally, the Active Bending Lights can raise or lower the headlamps in order to precisely illuminate corners and curves. These adaptive lights are powered by LED bulbs that produce bright illumination.
Customers should contact Rickenbaugh Volvo to test drive 2017 Volvo XC90 in Denver Colorado.
*Informational / opinion based review. Please contact dealer for complete details.