Volvo Dealership near Boulder CO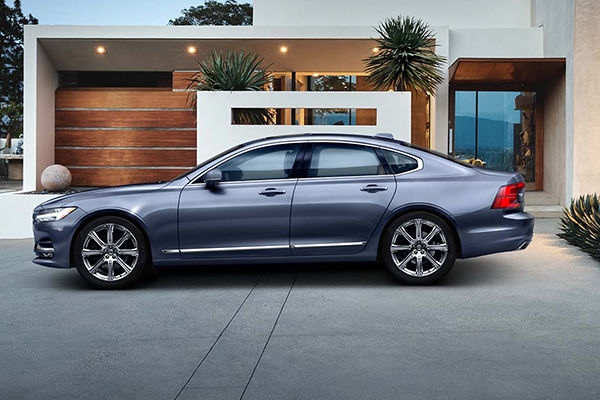 Why Rickenbaugh Volvo serving Boulder, Colorado?
Car buyers have an almost unlimited amount of shopping choices. You can go online, go to an auction, go to a used car lot, go to any number of fleet or rental arraignment services, etc. The options may well be overwheling, but at least there is an alternative and simpler solution.
Rather than going through the rigamarole of visiting a hundred different places, why not contact Rickenbaugh Volvo, the leading Boulder area Volvo Dealership and premier luxury dealership. Rickenbaugh can offer quotes, financing, services, pre-owned sales and a number of other useful options which will make your life much easier. Only Rickenbaugh can make your shopping experience as simple as arriving, finding the vehicle you like and leaving with it; no hassle, no fuss, no muss.
Our knowledgeable sales staff will help you find the car you need at a price you like, and all of our other services are certain to keep you coming back for more. So don't stress about the pressures of buying a car, simply visit your leading Boulder area Volvo dealership or contact Rickenbaugh Volvo today! Rickenbaugh provides a luxury dealership experience serving Boulder and outlying regions with Boulder luxury sales. If you are looking for Volvo specials to Boulder, Rickenbaugh is your only option.
Here is a brief list of the services we offer and why you should take advantage of them.
New Vehicle Sales
Few vehicles are as highly rated and strongly regarded as Volvo. Truly a luxury car designed for comfort and safety, the Volvo brand has been built around extraordinary reliability and a strict adherence to the highest safety standards. These fantastic vehicles offer stability, confidence and comfort. Our cars offer the luxury car quality without the flashy or pretentious posturing of other luxury brands.
Of course, nobody else can offer the Volvo specials to Boulder that Rickenbaugh can, which is why our new cars sales are geared towards you. To get up to date on the latest finance offers, you should contact Rickenbaugh to find out what Boulder luxury sales are available to you at this time.
New Car Auto Finance
Cars aren't cheap, and excellent cars can be especially expensive. If you want the best but don't suitcases stuffed with cash, you have nothing to worry about: Rickenbaugh can offer competitive financing and excellent terms to interested buyers.
Thanks to the power of the internet, you don't even need to go into the lot to see if you qualify for financing right on this website. Applying online can help you save time and get your finances together before arriving on the lot to see our fantastic selection of vehicles.
You can afford one of these excellent cars! Prequalify online and then come in to discuss specific terms. With special offers available and the opportunity to own a fantastic car that will serve you for years, isn't this the best time to stop in to Rickenbaugh to pick out your next car?
Auto Repair & Service
Performance cars need to be kept in good shape to perform at their best. Luckily, Rickenbaugh offers highly trained professional service experts to assist you however necessary.
Rickenbaugh offers free software upgrades as they become available, complimentary diagnostics and available alternative transportation. Rickenbaugh offers a personal service contact so you always have personalized attention on your service needs to keep your car running in the best shape imaginable.
Rickenbaugh takes maintaining your vehicle seriously. Your vehicle is more than just a statement about how successful you are, it is your mode of transportation. We know that you could have children, pets, relatives and cherished friends in your car. We take the utmost care to maintain your vehicle as a result, working diligently to ensure all service issues are professionally handled and any potential issue is quickly and confidently addressed.
At Rickenbaugh, you can have confidence in your car, but even more confidence in the men and women who ensure your vehicle stays on the road at peak performance.
Genuine Parts
Part of the Rickenbaugh ethos on car maintenance is utilizing the highest quality parts to keep your luxury vehicle at the highest quality performance. Rickenbaugh is committed to offering you only the finest services available, which is why Rickenbaugh only uses genuine, guaranteed factory replacement parts to keep your car as fresh and new as it was when it came out of the factory.
Make no mistake about it, replacement parts from some soulless assembly line are an inherent liability. Rickenbaugh offers only genuine Volvo parts to keep your car in the best possible condition at all times. With the right parts and experienced service, your car will be kept looking and running like new from start to finish, no matter what hiccups or problems may arise.
Choose Rickenbaugh Volvo
The choice is obvious. The best chance you have to get a fantastic XC40 or S90 is to contact Rickenbaugh, the leading dealership serving Boulder, and see the kind of exceptional offers and deals they have for you today. Contact Rickenbaugh Volvo, the leading Boulder area Volvo dealership offering Boulder luxury sales and Volvo specials to Boulder and outlaying areas. Rickenbaugh is the luxury dealership you need to get you into an excellent car you'll love.