Volvo Dealership serving Lone Tree CO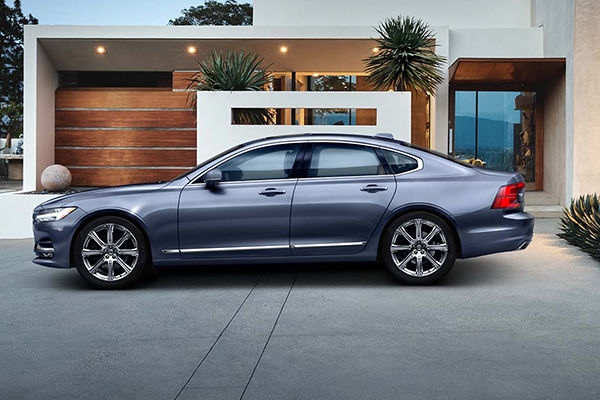 Why Rickenbaugh Volvo serving Lone Tree
There is a Volvo dealership serving Lone Tree CO that have everything you could ever need in order to buy and maintain your next car: Volvo new sales and financing services, as well as Volvo auto repair, parts and service. If you need any of these services, or any other car-related questions, contact Rickenbaugh Volvo! We are a conscientious Volvo Dealership serving Lone Tree CO that values efficiency, quality and great customer service. With our many years of experience serving Lone Tree Volvo shoppers we know what it takes to satisfy all of our clients' strict requirements. We have an amazing selection of both new and pre-owned vehicles at competitive prices, offering our clients great value. We also have a talented and well-connected finance team that can find you that finance or lease deal that is perfect for you and your family. And, not the least, our service department works quickly and efficiently, with high quality work that does not keep you waiting all day, along with a parts department that can find you practically any part you may need. We invite you to call or contact Rickenbaugh Volvo for all of your new car, used car or service and repair needs. You will receive friendly service and utmost care.
New Volvo Vehicle Sales
A wide array of choices and a selection of excellent deals make our Volvo new sales dealership serving Lone Tree one of the premier destinations for shoppers from all over the state. Here, on our lot, you can find a multitude of vehicles that span from compact sedans like the S60 to the voluminous XC90, as well as the range of Polestar special high-performance vehicles. Our wide selection lets you find just the right car - the one that has all of the packages, options and accessories that you want and that looks exactly the way that you find to be the most pleasing. At our dealership, with the help of our knowledgeable sales consultants, you can both start and finish your car search without having to waste your time driving all over the place looking for your perfect car. Nor will you have to spend time finding a bargain. With our great pricing and a rotating selection of great deals and specials, there is no reason to go anywhere else! So come on in for a visit and find out why Rickenbaugh is the dealer serving Lone Tree Volvo shoppers exactly what they've been looking for.
Volvo Auto Finance
Our great deals and special offers don't stop at just the cars we sell. We also have a hard-working finance department that is there to make sure you get that finance or lease deal that you want and deserve. Thanks to their long years of serving Lone Tree auto buyers, they know all of the banks and lending companies and can work to get you some of the most competitive finance and lease rates that are available on the market. This not only saves you money, but time as well. Just one visit with us can give you all the information you need to get the right financing in place for your next purchase. We make this process smoother and easier by giving you the option to apply for financing online. Just go to our website and answer a few questions and you will be on the way to getting the car of your dreams financed. So if you are looking for more info or want to find out about the many great finance and lease options we have, contact Rickenbaugh Volvo finance team and take the first step to getting that great finance or lease deal!
Volvo Auto Repair & Service
Our Volvo dealership serving Lone Tree CO isn't just about Volvo new sales, but is also home to a great Volvo auto repair facility. We put care and pride into all of the work we do, from oil changes to transmission rebuilds and everything in between. From the moment your car arrives into our parking lot to the moment the service advisor hands you back your keys, your car is in careful and attentive hands. Our technical team has years of industry experience and a constantly growing and improving knowledge base, with both covering pretty much any procedure on almost all makes and models. Whatever car you drive and whichever service it needs, our mechanics have you covered. Our work is not done until you are satisfied. Is your car due for a scheduled maintenance like a tire rotation, oil change or a fluid flush? Is your "Check Engine" light on? Or do you just need to install some new high-performance tires before your next event? Contact our service department and schedule your appointment today to avail yourself of our high-quality maintenance and repair services!
Volvo Parts
In addition to our selection of cars and our stellar service center, we've also been serving Lone Tree Volvo shoppers looking for the perfect high-quality parts for their prized vehicles. With a selection of parts, tires and accessories directly from the manufacturer, we have a selection that can get you everything your car needs. We can also help you find the right parts through our database that can narrow down your selection to get you that perfect part that is identical to the factory original. So if you ever need the right part at a great price in a convenient location, just call us and pick up your order at your convenience.