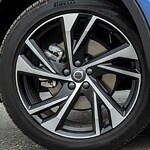 Here at Rickenbaugh Volvo Cars, we want to introduce you to one of the most popular compact performance SUVs on the market today, the Volvo XC40 R-Design. The Volvo XC40 R-Design stands on its own as one of the most youthfully designed SUVs on the road.
The exterior of the vehicle features a black color scheme that paints the roof in an eye-catching Black Stone while the side mirrors, windows, skid plates, and grille all boast a glossy black finish along with sharp angular features. Inside the car, choose the available Lava colored carpet for a more energetic and youthful driving experience every time.
Stop by our dealership the next time you're out shopping for a popular compact performance SUV and discover all the stunning features of the Volvo XC40 R-Design for yourself. We'll even take you out for a test drive in the car so you can enjoy some time behind the wheel.