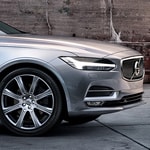 Luxury is everywhere in the Volvo V90 wagon. Of the many awesome features included in the vehicle are standard safety features. Those of us at Rickenbaugh Volvo Cars know how important a vehicle is in your everyday excursions. These safety features make life on the road that much easier.
Front and rear parking assist uses perimeters to ensure you will never hit an object while parking. It's always a headache when you accidentally bump into a parking barrier or some other item by simply trying to arrive safely into a parking space. The system is activated at speeds under six mph, ensuring a safe experience every time you park your vehicle.
Lane-keep assist is another standard safety feature found in the V90. It will let you know when you start to drift out of your lane, allowing you a safe way back into it. Visit the showroom in Denver for a test drive to experience more features.